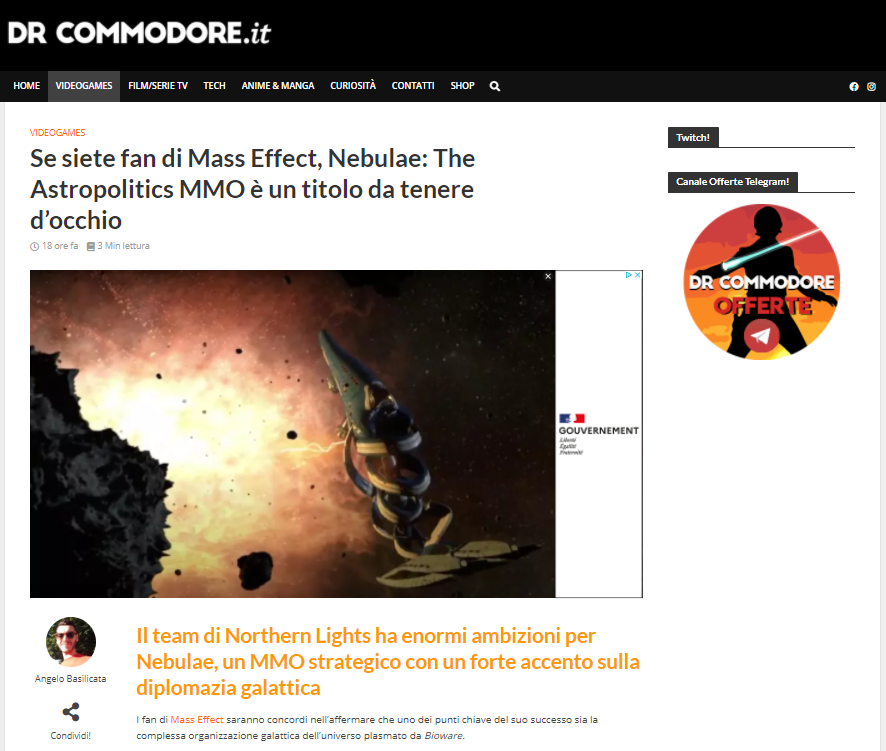 DR COMMODORE.IT
"Se siete fan di Mass Effect, Nebulae: The Astropolitics MMO è un titolo da tenere d'occhio"
Literally:
"If you are a fan of Mass Effect, Nebulae: The Astropolitics MMO is a game to keep an eye on"!
Well, we believe that even if you don't know mass effect, you should keep an eye on Nebulae for sure 😉

"The Northern Lights Entertainment team has huge ambitions for Nebulae, a strategy MMO with a strong focus on galactic diplomacy.

Mass Effect fans will agree to say that one of the key success trigger of Nebulae will be the complexity of their galactic organization, in a universe similar to the one of Bioware's Mass effect."
We totally agree on this point, this is why or interstellar factions have various political regimes, from a vibrant and ultra-participative democracy (The Feriah Union), to a Totalitarism (The Zirul Dominion) and anything in between.
Players will be able to collectively run their factions, set their laws, elect and overthrow their leaders, decide from their diplomacy strategy and go to war if needed, to ensure their survival and the one of their nation in front of the threat of the Nebula! Check out "Game" page for more details!
And remember: this is a mobile-first massively multiplayer strategy game, not a single-player game for PC and console as Mass Effect is!
Read the article in Italian! : D